Welcome to the Scugog Lake Stewards
Photo:  Heather Bell, Director, Scugog Lake Stewards
Scugog Lake Stewards Inc. is an all volunteer group dedicated to sustaining and enhancing the health of Lake Scugog, Ontario and its watershed through the promotion of projects, research, education and community stewardship. It is a charitable organization incorporated in 2003 and audited annually. 
LAKE WEEK, JULY 31 TO AUGUST 8, 2021
Every year those of us who live on the shores of Lake Scugog should celebrate it. Without this large body of water we would be a very different, more ordinary community. Because of it our economy thrives and our lives are made more interesting. Were you aware, for instance that over $40,000,000 is added to the economy of our watershed because of existence of Lake Scugog!
Various activities in honour of Lake Scugog:
July 30, from 4 to 8 pm, Old Flame Brewery hosted an in house tasting party with music, great food from The Foundry on Water Street, a charity donation giveaway of 8 beautiful items, and more.
July 31, from 1 to 4 pm, at the front of the Port Perry Post Office on Queen Street talking to the public.
All week there will be juried window displays on Lake Life organized by the Port Perry Business Improvement Area.  Make sure you visit during Lake Week.
We were featured during that week talking about Lake Scugog on Scugog TV.
August 7, from 1 to 4, the meet and greet outside Freedom Kayak & Canoe in Caesarea had to be postponed because of thunderstorms. http://www.paddlefreedom.com/
Don't forget to buy a six pack of Old Flame Brewery's lime flavoured sparkling water called 'Take Care of the Lake' with $1.50 from each can going to the planned Lake Scugog Enhancement Project. 
Think about joining us in our efforts to protect and enhance Lake Scugog. See:  https://scugoglakestewards.com/become-a-member-lake-stewards/become-a-member/
RESULTS OF OUR ANNUAL GENERAL MEETING, APRIL 22, 2021
We had a very successful Annual General Meeting held on Zoom with over 45 members and guests attending. Headlining the program was Mayor Bobbie Drew talking about Environmental Priorities for the Township of Scugog. Also featured was an introduction and welcome from Mathew Stevens, Cultural Coordinator from the Mississaugas of Scugog Island First Nation and Tanner Liang, Water Qualilty Specialist from Kawartha Conservation .
We now have a new Board of Directors elected during our recent Annual General Meeting. Those elected by the membership are as follows:
Rob Messervey, Bill Eull, Barbara Karthein, Jeanne Symes, Cliff Moon, Chuck Heroux, Sebastian Coppa, Heather Bell, Ty Harrington, Pat Bunting.  Directorial positions will be allocated at our next Board Meeting on May 27, 2021.
The 2020 Financial Statements were approved as presented by our Auditors, Inclusive Advisory of Port Perry.  Inclusive Advisory was chosen by members to  be our auditors for 2021
Our 2020 Annual Report, published in 2021: Annual Report Final 2020 
Our January 1 to December 31, 2020 audited financial statements: 2020 year end financial audit
Corporate By-law #1 update approved by membership at the Aprill 22, 2021 Annual General Meeting. By-Law #1 2021 Amendment (2)
EXCITING OPPORTUNITIES FOR YOU TO HELP OUR LAKE!
Please see the volunteer positions available on our research page: https://scugoglakestewards.com/lake-scugog-research/
OPPORTUNITIES FOR YOU TO GET HELP WITH SHORELINE IMPROVEMENT AND TREE PLANTING:
(A)  Scugog Water Fund:  https://www.kawarthaconservation.com/en/landowner-services/landowner-grants.aspx  provides grants and technical assistance to:landowners for environmental projects on their land, organizations for community-focused environmental projects (launching June 2021) — shoreline erosion control and naturalization projects and septic system upgrades are eligible.
(B) LEAF Program for free trees and planting in town yards including consultation and follow up. https://mail.google.com/mail/u/0/#inbox/WhctKJWQmsdsfgbVBnFxPwFnrmDbhCCNnHBtzDJVQrMPxZvzZPbWWTkddXVNDcKflsJHdsV?projector=1&messagePartId=0.1 
PLEASE NOTE:
Sometime during the early part of March, our Facebook page disappeared for reasons unknown. We did everything possible to restore it but it appeared to be eliminated. We have since developed a new site and have requested renewed 'Likes' and 'Friends.' If all else fails, see https://www.facebook.com/Scugog-Lake-Stewards-106982494808449
________________
Donor Recognition Program for 2021:  We are very proud to announce that as of this date we have two gold level member businesses who have donated $500 to the Stewards, one silver level donor with a donation of $250, and four (5) bronze donors each with a donation of $100. Thank you so much.  See page:  https://scugoglakestewards.com/become-a-member-lake-stewards/
March, 2020:  OUR STRATEGIC PLAN FOR 2020-2023 see Final Strategic Plan, 2020-2023,
What is happening today on the waters of Lake Scugog?  Click on the image of our 24 hr. webcam at the Port Perry Marina below.  For current weather information click on the Environment Canada link below.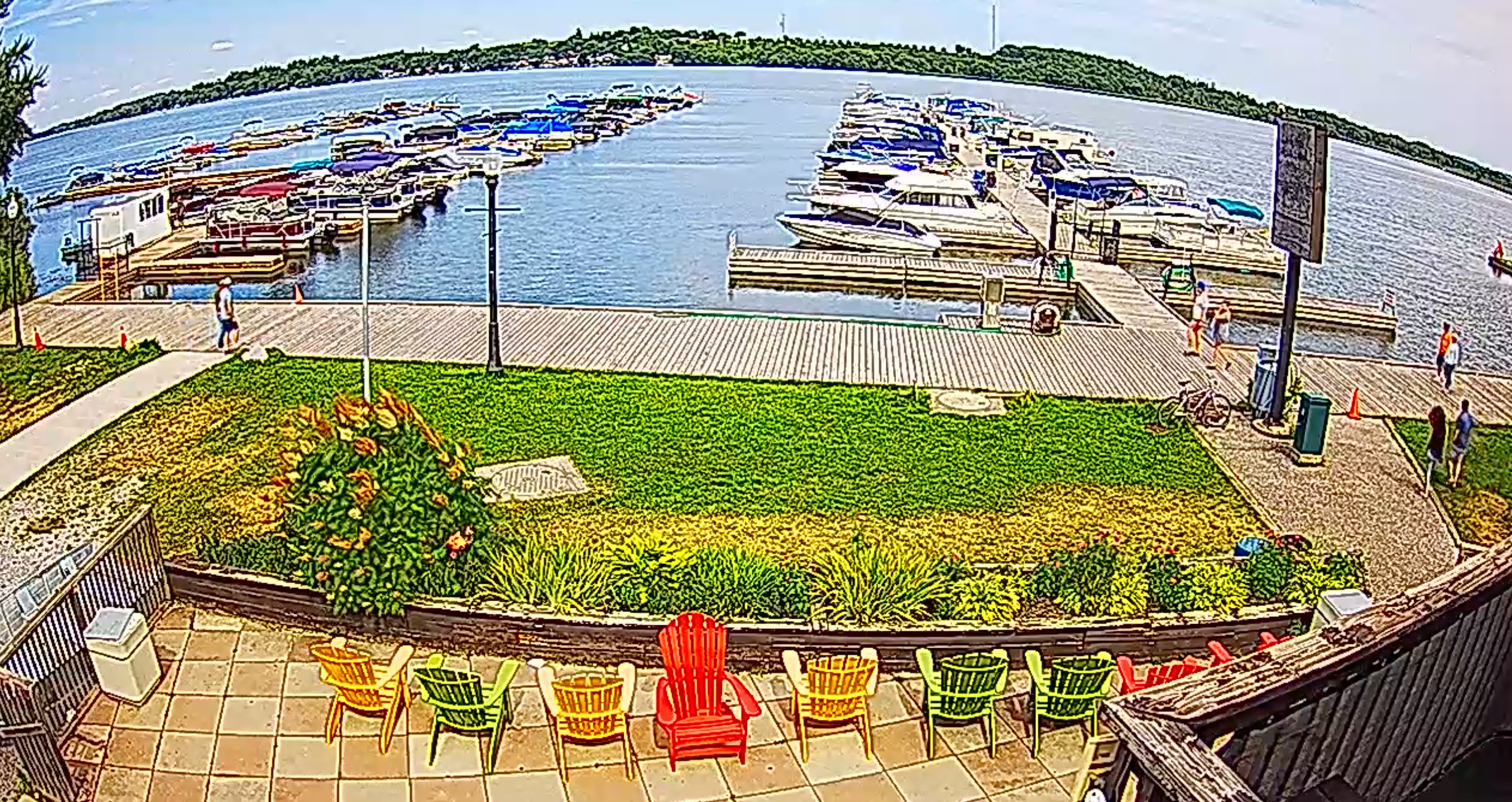 Our mission is to preserve, protect and enhance Lake Scugog.  Like other lakes, our Lake Scugog faces the challenges of invasive species, sedimentation, water quality and lake level issues.  It is our job to work with partners to ensure the lake remains healthy and attractive for future generations.
Rob Messervey, President